Spring brings warmer weather and a welcome return to green after winter gray. But spring can sometimes go too far, with rain that escalates into destructive floods. As floodwaters recede and cleanup begins,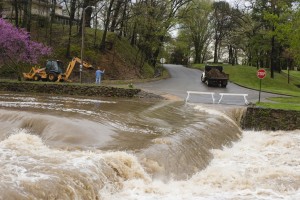 obtaining insurance proceeds and FEMA assistance are critical and immediate steps to recovery. The following practices can help maximize your recovery.
Review Your Insurance Policies and Calendar Deadlines.
Review and evaluate all potentially applicable insurance policies to be sure you understand both your available coverage and your obligations. While property insurance is the most obvious source of coverage, don't overlook auto, marine cargo, pollution and—for those facing potential third-party claims—liability policies. Calendar any deadlines and set reminders several weeks out.  Initial deadlines typically include the date by which you must give notice, file a sworn proof of loss, and file suit if you disagree with the insurance company's coverage determination.  Certain state laws and insurance regulations may also impact your rights and obligations under the policies.
Place All Insurance Companies on Notice.
Even if you haven't yet identified all of your losses, or are unsure if you have coverage under a certain policy, provide notice that you might have a claim to any insurance company under whose policy you might conceivably seek coverage, and do so as soon as possible. Don't assume your policy is not applicable. Your initial notice doesn't need to be very detailed or specify the cause or extent of your loss.
Assess All Possible Coverages.
One of the first questions you should ask is whether and to what extent your policies insure against flood. Under "all-risk" policies, flood is covered except to the extent there's an applicable flood sub-limit or exclusion.  "Named-peril" policies may or may not provide coverage for flood, depending on whether flood is named or excluded, how "flood" is defined, and how flood exclusions are worded. Even when flood is not an insured peril, there may be coverage when another, covered cause (such as wind, power outage, a construction defect or faulty workmanship) precedes, contributes to, or causes the loss.

Assuming the cause of loss is covered, the next question is whether the policy insures your specific types of losses. Commercial "first-party" property policies are designed to insure physical losses to your property, your business income loss because you can't use the property, and other extraordinary expenses.  These policies may also have "contingent" coverages that apply even if your own property isn't damaged, but damage to the property of your critical suppliers of goods and services, utility providers, or customers or employees prevents the supplier or customer from supplying or accepting your goods or services.
Document and Mitigate Your Losses.
It's critically important that you carefully document all of your losses, especially before you undertake any cleanup efforts. Take notes and photographs.  Keep a log of all actions taken.  Track expenses for professional fees, mitigation and cleanup costs.  Establish separate accounts to track losses.  Save all repair receipts and other records of additional expenses made necessary by storm-related damage.  You may also have an obligation to preserve and protect the property from further losses, and the policy may cover those expenses.  Finally, the insurance company may have salvage rights to damaged property and stock, so preserve any salvageable property you can.
Engage Experts.
It's usually prudent to engage professional claim consultants, such as forensic accountants, particularly if you have business interruption loss. Additional experts may be needed to model any unique financial aspects of your business.  Their fees are frequently covered under property policies, subject to sub-limits.  Cooperate with the insurance company adjuster, but don't forget that the adjuster works for the insurance company, not for you.  If you need an advocate, hire your own.
Government Funds Might Be Available for Nonprofits Providing Critical Infrastructure and Essential Services.
FEMA and other government-based programs may be available for certain not-for-profits that provide critical infrastructure and essential services. Critical infrastructure and services include: hospitals and other medical-treatment facilities; fire, police, and other emergency services; power, water, and sewer utilities; educational institutions; libraries, museums, and zoos; and community, senior citizen, and day-care centers. The program and application process can be complicated and daunting, and strict time limits apply. But a successful applicant can see FEMA reimburse no less than 75 percent of the eligible costs for emergency protective measures and permanent restoration costs.
If you follow these tips when your business is damaged by flood, you should be well placed to recover more quickly.