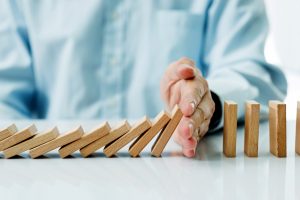 A corporate crisis is an event that has the potential to cause material harm to a company's reputation or bottom line. Typically, these crises have a potential liability element, whether because of negligence, oversight, inaction, malfeasance, or mishandling by the company or others associated with the company. Though prevention strategies are helpful, corporate crises of varying magnitude are more inevitable than avoidable. Knowing that, companies are well advised to think through their crisis response strategies before crises materialize.
Effective crisis management turns on the company's ability to efficiently and strategically marshal its resources—human and financial—to meet the dynamic, unique demands of the given situation, recognizing that the psychology and patterns of crises are very different from usual business operations. When it comes to human resources, deploying a small, nimble "core crisis team" to lead the response is essential. As for financial resources, insurance considerations should form a critical part of your analysis, even if they may rarely dictate your response strategy.
Here are four crisis management best practices to add to your company's arsenal:
Designate and empower a small, core crisis management team to take decisive actions, supported by subject matter specialists. An effective crisis management team rapidly assimilates large volumes of changing, often ambiguous or complicated information, and acts decisively to get ahead of events, leading the company from the inherently reactive posture of dealing with the immediate aftermath to the proactive posture of a company successfully moving through the crisis. The core crisis management team should be small but diverse and vested with significant authority. Generally, this team is made up of a couple of designated management personnel, including risk management, in-house counsel, and outside crisis counsel (whose presence and participation maximizes privilege protections), as well as either an internal or external crisis coordinator whose organizational acumen frees the rest of the core team to "see the forest through the trees." The core team may report to the board of directors on the crisis response. The core team should also be supported by as-needed specialists who can supply critical knowledge, expertise and information to the decision-making process, such as insurance coverage counsel, litigation counsel, crisis communications specialists, government relations professionals, technical experts, and others. For purposes of privilege, efficiency and rapid decision-making—consistent with the company's core values and its primary post-crisis goals—specialists should usually remain outside the cocoon of the core crisis team, but they should be expected to maintain heightened levels of responsiveness until the crisis subsides.
Incorporate an insurance recovery strategy. Companies should anticipate that insurers will likely dispute all or portions of a claim during and after a crisis—especially for large crises—and plan accordingly. Positions taken in ancillary proceedings during and after a response may damage the company's insurance claims down the road. Insurance coverage counsel can help ensure that the insurance implications of response actions and positions taken with the public, regulators, any victims and courts are evaluated, understood and integrated into the core team's thinking during the crisis.
Make timely and thoughtful insurance notifications. Providing notice to insurers is important for preserving coverage and is required under every type of policy. Insurers will use any lack of notice or untimely notice to argue that coverage is limited or negated entirely. To aid in timely insurance notifications, the company should routinely refresh key employees on the notice requirements of each insurance policy. The best practice is to put in place clear, pre-written crisis management protocols that include specific instructions and timelines for notifying insurers of a crisis event. But notification should be thoughtful, not perfunctory. How an event is communicated to carriers can make a difference in whether the claim is accepted and affect the potential or magnitude of any coverage dispute. It is not the mechanism of the communication so much as the messaging that is critical. Carriers can be collaborators in finding solutions—or they can become roadblocks—depending on the coverage issues at play, the insurers' corporate cultures and how the relationships with them are managed. Involving insurers early, but strategically, is important.
Consider obtaining crisis management coverage but retain choice of service providers. More insurers are now offering some level of dedicated crisis management coverage. Although limits are typically fairly small, such coverage can provide a relatively immediate infusion of funds to meet the demands of the crisis in its early days, when the company is likely to need outside professional resources. Since effort applied in the earlier days of a crisis has a disproportionate effect on outcomes, access to these additional resources can be a very good thing. However, it is important that the company retain the freedom to choose its own crisis service providers when it is placing coverage. In a crisis, the engagement of outside professionals who do not complement the company's needs and culture or lack sufficient familiarity with the company or the crisis context can be downright counterproductive. Be aware that insurers often attempt to limit policyholders to pre-selected service providers who offer volume discounts or other consideration to the insurers, who may not pay for services by the company's existing or preferred providers. If a company chooses to secure crisis management insurance, it should be sure to negotiate terms that allow it to use the professionals of its choice.
No company gets to choose if or when it will be confronted with a crisis, but deploying a few best practices to optimally leverage human and financial resources to meet the demands of the crisis can go a long way toward protecting a company's reputation and financial stability in the aftermath.