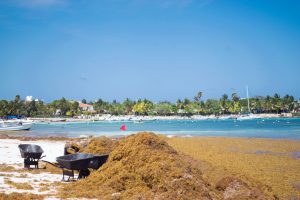 As summer vacation rolls around and hotels, restaurants and other hospitality companies gear up for a busy tourist season, coastal businesses in the U.S. Southeast, Puerto Rico and the Caribbean may be welcoming an unexpected guest—the Great Atlantic Sargassum Seaweed Belt. Businesses are bracing for this ten-million-ton mass of brown seaweed, which is floating on the ocean surface and extending from the west coast of Africa to the Gulf of Mexico.
According to the Optical Oceanography Lab at the University of South Florida, which uses a satellite-based Sargassum watch system to track existing seaweed blooms (or "aggregations") and the probability of future blooms, the quantity of seaweed aggregation is expected to increase over the next few months, covering beaches (with mounds up to one-foot high) and suffocating shallow waters, as it migrates westward with prevailing currents and winds. More than just unsightly, these Sargassum blooms emit rotten-smelling, toxic gases that can kill wildlife and cause respiratory problems in humans. In addition, when left to rot, the Sargassum can leach arsenic into groundwater, causing additional damage and problems.
What coverage might hotels and other beach-dependent hospitality businesses have for property damage and business disruption stemming from the Great Atlantic Sargassum Seaweed Belt?
Establishing a Successful Claim — The Basics
To put forth a successful insurance claim involving a business interruption loss, policyholders must demonstrate that they have experienced: (i) physical loss or damage to covered property and (ii) business interruption arising from that physical loss or damage. Once they do that, the law in most states places the burden on the insurance company to prove that the losses are excluded or otherwise limited. These are important threshold issues that must be considered in connection with all first-party property insurance claims.
Typically, property insurance policies cover "physical loss or damage" to a business's property and, if the business purchased business interruption coverage, economic losses arising from that physical loss or damage. Policyholders should look carefully at the definition of "property damage" in their property policies. Policy language often varies, and policies contain different iterations of this language which can impact available coverage. That said, generally speaking, recent cases require that the "loss or damage" be physical in nature—meaning the covered property must have undergone some tangible change or be incapable of being used for its insured purpose. Again, policy language matters and should be carefully scrutinized because some courts have been wrongly convinced by insurers that "loss of use" means the property must be incapable of use for any purpose whatsoever. For example, the court in Keetch v. Mutual Enumclaw Ins. Co. denied coverage when a hotel did not halt all operations after being impacted by a volcanic eruption. Some of these recent holdings (and the insurers that made the arguments in the first place) ignore clear policy language allowing coverage for partial losses or suspensions of business, and ignore the fact that the policyholder did not insure any use but, rather, a specific use (in the case of a hotel, the ability to rent rooms at a profit and generate revenue from various amenities). Historically, virtually every state has recognized that toxic, noxious and hazardous substances—like the toxic gases and arsenic emitted from Sargassum—physically impact property and that the presence of such substances can trigger both property and business interruption insuranceFor examples, see Mellin v. Northern Security Insurance Co. (urine odor), TRAVCO Ins. Co. v. Ward (toxic gases released by drywall) and Western Fire Ins. Co. v. First Presbyterian Church (gasoline fumes).
Physical Loss or Damage
The Great Atlantic Sargassum Seaweed Belt presents some interesting issues relating to property and business interruption insurance. For this post, we assume that the Seaweed Belt causes physical loss or damage that could result in business interruption losses. The question, though, is what covered property is lost or damaged?
Obviously, if the policyholder owns the beach and/or body of water where the Sargassum aggregates, then the policy could be triggered (again assuming the Sargassum causes physical loss or damage). The same should be true if the toxic gases and arsenic amass on or infiltrate the property owned by the policyholder, as in TRAVCO Ins. Co v. Ward, where sulfur gas accumulated inside the covered property.
But what if the policyholder does not own the beach and/or body of water, and the gas and/or arsenic does not come onto the owned property? The policy could still afford coverage in this scenario because many property policies consider property within 1,000 feet (or some other specified distance) of the insured property to be "covered property." This is especially true if the policyholder is responsible for cleaning up the Sargassum, despite not actually owning the beach. As in Abbey Co., LLC v. Lexington Ins. Co., some policies even cover "[t]he interest of the Insured in all real and personal property including but not limited to property owned, used, leased or intended for use by the Insured." Policyholders should carefully review their policies and, where possible, try to negotiate broader coverage on renewal.
Attraction Property Coverage & Contingent Business Interruption Coverage
In addition, damage to beachfront property may trigger contingent business coverage if the policy includes an endorsement for "attraction property" (sometimes called "leader property"). An attraction property is property that is not owned or operated by the insured, but attracts customers to the insured's business. Endorsements sometimes require attraction property to be located within a certain distance of or "located in the same vicinity as" the insured's business.
Contingent business interruption coverage, if purchased, might also be available if the policyholder's business is dependent on another business that experienced a covered cause of loss under the policyholder's policy. For example, a business that relies on a port to provide fresh fish or other goods would not be able to operate if the port is blocked and unable to operate because of the Sargassum—the business would have no goods to sell. The resultant losses might be covered even though the business itself did not experience any physical loss or damage, but rather there was damage to its supply chain.
Thus, restaurants and other businesses near a beach, or that rely on another business that suffered physical loss or damage because of Sargassum, may potentially have contingent business interruption coverage or attraction property coverage if they can show, for example, that they cannot operate normally due to the Seaweed Belt and incur related losses.
Conclusion
Policyholders impacted by the Great Atlantic Sargassum Seaweed Belt should consider whether their losses are covered by their property insurance policies. Property damage and business interruption that results from natural causes are becoming a regular occurrence and can take many forms. Policyholders should work with experienced counsel to scrutinize their existing policy language and evaluate coverage when purchasing new policies or negotiating renewal terms.
---
RELATED ARTICLES
Insurers Seek to Avoid Coverage for BIPA Claims by Using Old Exclusions for New Purposes
Weathering Economic Turbulence: Assignment of Insurance Claims for Losses Under Russian Sanctions
Federal Court Holds Allegations of Coronavirus on Premises Sufficiently Allege Physical Loss of or Damage to Property