Volcanoes, hurricanes, and polar vortexes—oh, my! From the ongoing eruption of the Kilauea volcano in Hawaii, to huge winter storms, massive mudslides, and the unfortunately reliable hurricane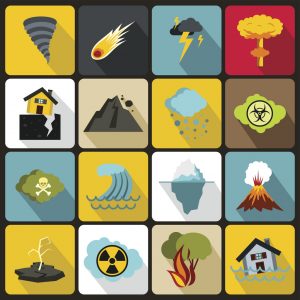 season, it seems like natural disasters have been near constant over the past year. In addition to the catastrophic toll these events take on people and communities, the toll on a business can be high. Understanding the full range and implications of your company's risks, and putting the right coverage in place to protect against those risks, is vital. When a natural disaster strikes, having appropriate levels of property damage, business interruption and contingent business interruption insurance can be three keys to stability.
When it comes to insuring property damage from natural disasters, it is an essential point that your business has sufficient coverage for the types of weather and natural events likely to cause it damage. Property policies typically cover fire damage up to policy limits, but often include lower sublimits, higher deductibles and other conditions on coverage for damage caused by flooding, windstorms or mudslides—or may exclude them altogether. For example, a policy could have a sublimit for damage resulting from earthquakes, and usually will have a sublimit that could reduce the amount of coverage available for particular costs, like debris removal. Policies that cover flood events or windstorms typically do so with a much smaller limit, and the limits for floods may depend on whether losses occur within flood zones designated by the Federal Emergency Management Agency. Before placing insurance, it is important to know the flood zones that your operations are located in and to negotiate limits appropriate to the contingencies that may apply there. You should be sure to tailor your property damage coverage to the types of weather events and disasters particular to your area of operation.
Business interruption coverage goes hand in hand with property damage coverage. Your property damage insurance covers damage to your physical property, but such damage or the threat of it may also result in significant disruptions to your operations. Business interruption insurance goes a step further than property insurance, generally providing coverage for lost profits and extra expenses arising from property damage. It typically also provides coverage for losses cause by civil authority orders that prevent access to your property, provided property damage of the type covered occurred, usually within a specific radius of your property and even if not to your property itself. And it often provides coverage for "expediting expenses"—additional costs you incur to get your business up and running sooner, either at the same or at an alternative location—as well as for other costs you incur to mitigate covered losses. But be aware that in some policies, the insurer's approval may be required before such expediting expenses are occurred. When placing coverage, it is important to evaluate whether the policy includes these additional coverages and that the terms, such as any radius within which property damage must occur for civil authority coverage to apply, are realistic and provide the coverage you expect to need. When a storm or other event shuts you down, a more complete package of business interruption insurance can help keep the business itself afloat.
What if your property is lucky enough to avoid any direct or even local damage, but you still lose business because of damage to your customers or your supply chain? Enter contingent business interruption (CBI) insurance. If a natural disaster keeps your supplier from providing goods and services, or prevents your customers from receiving your products, CBI coverage may help protect against those losses even if the disaster occurred far way. CBI coverage can be limited, however. For example, some CBI policies only cover losses resulting from damage to a "direct" supplier as opposed to an "indirect" supplier, a distinction that often leads to coverage disputes. As a policyholder, you should make sure you fully understand the supply chain behind your suppliers, and make sure that any CBI policy covers interruption of your major customers and suppliers.
A natural disaster often strikes without warning, so consider this a friendly reminder to make sure you have the right insurance coverage for your business before it suffers a loss. And remember, it is always a good idea to reach out to coverage counsel to understand the coverage you have, and the coverage you need, so that whether you're faced with wind, rain, snow or lava, your business can move forward to sunnier days ahead.