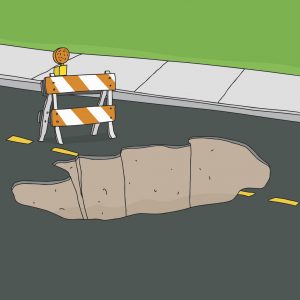 As summer comes to a close, road repair crews across the country are identifying the street repairs and potholes that must be filled before the cold weather approaches. Now is also a good time for policyholders to identify some of the "potholes" that may accompany their claims-made insurance policies and get them filled before it is too late.
As readers of Policyholder Pulse know, understanding and complying with the claim-reporting requirements of your claims-made insurance—such as cyber-risk, D&O, EPL, or E&O policies—is always an important step in avoiding a denial. So when a former employee files a complaint with the EEOC, you already know to immediately forward the complaint to your insurer and ask them to contact you to discuss arrangements for your company's defense. The insurer usually responds with a list of its pre-approved defense counsel, informs you that it's investigating the claim under a full reservation of rights, and asks that you forward a copy of the employee's HR file.
Imagine your surprise when, a month later, the insurer tells you that it's denying coverage because of an email in the file that the employee sent to HR over a year ago, complaining of some off-color comments by her boss and asking to switch to a new team. According to the insurer, this email was a "Claim" because it (1) was in writing, (2) alleged a wrongful act, and (3) sought non-monetary relief. But because this "Claim" was first made during a prior policy period and relates to the current lawsuit, it wasn't reported in time, and there's no coverage. In many jurisdictions, depending on the language in your policy, this may be the case even if you had continuous coverage with the same insurer the entire time.
So what steps can you take now to reduce the bumps in the road that often accompany claims-made policies' reporting requirements?
Ask for a Claims Savings Clause.
Recognizing the unfairness that can accompany the claims-made reporting trap, some insurers have begun to offer a "Claims Savings Clause" that can reduce the likelihood of an unexpected coverage denial for late notice. Such clauses typically forgive a reporting delay, as long as (i) you have continuously maintained coverage with the same insurer, (ii) the claim would have otherwise been covered, and (iii) the insurer was not materially prejudiced by the delay. Ask your broker to make this a priority during any upcoming renewals.
See what the insurer offers to New York policyholders.
If, after asking for a Claims Savings Clause, the initial word back is "we don't offer that," ask your broker to obtain any "New York Amendatory Endorsements" that the carrier uses to comply with New York's insurance regulations. For certain policies sold in New York, insurers must include a provision requiring that the insurer be prejudiced before it can deny coverage on the grounds of late notice. Although this regulation may not apply to you or your policy, the fact that your insurer may offer this provision to other similarly situated policyholders in New York can be useful leverage if you encounter an underwriter who claims "we don't offer that."
Limit claim reporting requirements to specified roles.
Ask your insurers to limit the claim reporting requirements to claims received or known by specific employees, such as your risk manager and general counsel. Many insurers claim to offer this, although most will still require reporting of all claims (regardless of who in the company knows about them) within a limited time after the policy period ends. Ask that the reporting requirement be limited to your selected individuals, regardless of whether they become aware of the claim during or after the policy period. Alternatively, some insurers may be willing to limit the definition of when a Claim is "first-made" to when it is first received by specific individuals at the company.
Understand how "Claim" is defined in your policy.
Review how a "Claim" is defined in your policy and think about the types of demands, requests, complaints, subpoenas, or similar correspondence or documents that your company receives. You should consider reporting anything that a creative insurance lawyer could characterize as a "Claim," even if you don't think the matter will amount to much or exceed your retention. Some policyholders are afraid to report such claims, fearing it will lead to a premium increase—but the mere volume of claims typically has little impact on your rates. Also, think long and hard about proposed changes to the definition of "Claim." While a broader definition may provide broader coverage, changing the definition may also retroactively exclude certain claims and increase your reporting burden going forward.
Educate your employees about claims-made insurance.
Consider employees or departments that might be receiving claims and not even know it—such as customer relations, sales, compliance, human resources, finance, IT—and make sure they understand the types of insurance coverage your company has and the process for escalating something that might be a "Claim." Have an annual training or webinar for these groups (or ask your broker or outside insurance counsel to sponsor one), and consider setting up a simple email address (such as claimreports@yourcompany.com) to streamline your internal process.
While you're never going to find a completely smooth road with claims-made polices, if you take some proactive steps you can at least minimize some of the bumps along the way.