As James Taylor might say, I've seen fire and I've seen rain, but will my insurance cover the damage? California has certainly seen plenty of fire and rain. In the aftermath of the state's most recent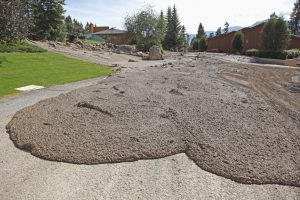 devastating events, damages are estimated to top $5 billion. As Californians file insurance claims to cover their losses, coverage for flooding and mudslide damage has come into focus.
State of California figures show that in 2017 there were 7,117 wildfires and 505,965 acres burned. The Thomas Fire, the largest of the recent wildfires, took six weeks to contain and burned approximately 300,000 acres. These widespread and intense fires burned vegetation which would otherwise have absorbed rainfall and held soils in place, and baked a waxy waterproof layer onto the ground's surface, leaving the region vulnerable to devastating mudslides and debris flows. Following these destructive fires, heavy rains set off large mudslides in Montecito, killing at least 15 people and trapping residents in their homes. An estimated 100 homes and eight commercial properties were destroyed, and hundreds more homes were damaged.
Property policies typically cover fire damage, but flood and mudslide damage may require a separate policy or have sublimits lowering the amount of coverage available. But the fact that the mudslide disaster in Montecito has been linked to earlier wildfires, which destroyed vegetation and left the soil scorched, changes the picture significantly. If an area affected by mudslides has recently been impacted by wildfires that burned vegetation and left loose soil, insurance may cover losses due to mudslides and outside of otherwise applicable sublimits.
Sen. Hannah-Beth Jackson introduced a bill (SB 917) that would make it clear that the current law requires coverage of fire-caused events. The bill states that mudflows that are "directly attributable to another covered peril"—in this case fire—are covered. Under this bill, the Montecito mudslides are attributable to the Thomas Fire and therefore cannot be excluded from coverage.
California Insurance Commissioner Dave Jones issued a formal notice to all property and casualty insurers similarly stating that the Thomas fire and other wildfires are the "efficient proximate cause" of the mudslides, meaning that those persons or businesses with fire coverage (most policies) are covered for the damage resulting from the mudslides.
While California has a reputation of "sunny days that never end," wildfires and rain are not uncommon. Will insurance cover losses due to mudslides that occur as an aftereffect of fire? Insurance companies may initially deny coverage, but there may be hope for property and business owners, and they are encouraged to file insurance claims and reach out to coverage counsel in the event of a coverage denial.