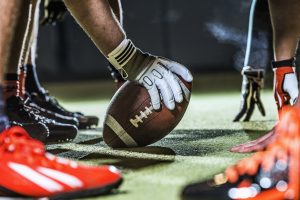 As summer turns to fall, football fans around the country are brimming with excitement for the 2022 college football season to kick off. This upcoming season is particularly notable as it marks the second year of what has now been dubbed the "NIL Era" of college football—referring to college athletes' recently gained ability, following the Supreme Court's 2021 decision in NCAA v. Alston, to profit off of their own "Name, Image and Likeness" while remaining eligible to play college sports. Shortly after the Alston decision was rendered, the NCAA adopted a new policy that allowed individual college athletes to engage in NIL activities, so long as those activities were consistent with applicable state law. This change led college football recruits and athletes around the country to sign NIL deals ranging from $500,000 to more than $1 million in just the last year. While the dawn of the NIL Era opened the floodgates for college athletes to profit off of their personal brands while they are still in college, college football players in particular remain wary about the all-too-real risk that one errant play could wreck their future earning potential in the professional leagues.
Take the case of Jake Butt, a stellar tight end who played for the University of Michigan in 2016 and was projected to be one of the first tight ends selected in that coming year's NFL Draft. At the end of the 2016 season, Butt was given an opportunity that most college football players only dream of—to finish out his college football career competing in the Orange Bowl against Florida State University. That dream ultimately became a nightmare however, as Butt tore his ACL in the second quarter, bringing a sudden and catastrophic end to his college football career. While experts had projected Butt to be selected in the second or third round of that year's NFL Draft, because of the injury he suffered, Butt was not selected until the fifth round—resulting in a significant financial loss, as the NFL's rookie wage scale pays second and third round draft picks hundreds of thousands of dollars more than players selected in the fifth round.
The prospect of such a financial loss has led many top-tier college football athletes to skip their final college football games altogether. However, other athletes have chosen to address this risk by purchasing a special type of insurance coverage, known as loss-of-value or LOV insurance, to protect their future contract value should they suffer a significant injury in their final season. This type of coverage can be tremendously beneficial for some athletes; however, there are significant costs and risks associated with LOV coverage that all college athletes should consider before purchasing such insurance.
What is Loss-of-Value Coverage?
LOV coverage is a type of insurance, usually purchased in the year preceding a college athlete's draft eligibility, that protects against losses to that college athlete's future professional contract value. LOV insurance is similar to catastrophic injury insurance, which provides coverage to college athletes who have sustained severe injuries and whose medical bills are expected to exceed $90,000. However, instead of covering medical expenses, LOV insurance provides coverage if the athlete's eventual professional contract value falls below a predetermined amount due to a significant injury or illness suffered during the policy's designated coverage period (i.e., the athlete's college career).
This type of coverage is particularly useful for athletes entering sports leagues like the NFL, which have adopted rookie wage scales that fix the salaries for incoming athletes based on when they were drafted. The NFL also fixes the length of its rookie contracts, typically at three to four years. As a result, an injury that causes a potential first-round draft pick to fall to the third round would lock that athlete into a lower rookie salary for several years, causing him to lose out on millions.
When calculating the amount of LOV insurance, underwriters first determine an athlete's eligibility based on their projected draft position. For those athletes projected to be selected early in the draft, underwriters often offer a limit between $1 million and $10 million. The underwriters will then set a LOV threshold—the specific draft selection (and, therefore, contract value) below which the athlete must fall to trigger LOV policy benefits. If the professional contract an athlete signs falls below that threshold as a direct result of an injury or illness suffered during the coverage period, the insurance would pay the difference between the actual contract's value and the policy's predetermined threshold value. There is no set standard for LOV policy thresholds, which can range from an amount below the contract value of the last pick in the draft to upwards of 60% of the athlete's projected rookie contract.
Availability and Risks of Loss-of-Value Coverage
While the earning potential for college athletes has never been greater, availability of LOV coverage has waned in recent years. While more than 45 college football players in the 2018 NFL draft class were insured for LOV coverage, only about half-a-dozen prospects secured such coverage before the 2021 NFL draft. LOV coverage also has become significantly more expensive in recent years,  now easily topping $100,000 in annual premiums for top football prospects.
This price tag becomes more worrisome when considering that LOV insurance, like all other types of insurance, comes with the risk that an insurer might decline coverage when an injury actually occurs. LOV insurance comes with limitations and exclusions, including those for pre-existing injuries, illnesses, and other performance-related realities, such as drug and alcohol use, criminal acts, off-field issues and injuries, as well as poor performance during the season or at pre-draft events. Such provisions allow insurers to argue that an athlete is not entitled to coverage because the athlete's "loss of value" was the result of some other, excluded cause rather than a covered injury.
Notably, the NCAA does not provide LOV coverage to its college athletes because of such concerns, stating:
The NCAA does not offer LOV insurance at this time because the coverage has not been shown to consistently benefit student-athletes who file a claim. Because of the complexity of LOV policy wording and the subjective nature of underwriting and accurately projecting draft positions, LOV claims are often times litigated and the market is consistently changing.
Additionally, the NCAA has recommended that only college athletes "among the top 10 picks in their respective draft" should consider purchasing LOV insurance, because athletes outside that range may have challenges proving the cause of their loss in earnings if they file a claim.
Overtime Win
Jake Butt suffered every college football athlete's worst nightmare—a significant injury in his last game before entering the professional leagues—but his story ended with a come-from-behind victory of sorts. Before his final season, Butt purchased a $2 million LOV rider on his $2 million permanent total disability insurance policy. That LOV rider based coverage on Butt's projected draft position in the middle of the third round, and the insurer agreed to compensate him $10,000 for every spot he dropped below that projected draft position. Because Butt was not selected until the fifth round of that year's draft, Butt's LOV rider ultimately paid out approximately $543,000 in compensation for the loss in value he sustained as a result of his injury during the Orange Bowl.
LOV insurance helped Jake Butt and could provide invaluable protection to certain college athletes, but the expense and potential for denial of coverage make LOV insurance a risky proposition for most. Athletes considering LOV insurance should first speak with competent counsel to navigate these risks and assist in securing the best available insurance for their needs.