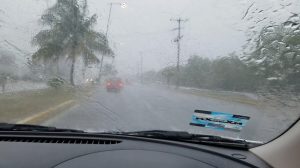 Last week, I had the great fortune of going to Cancun with my family. Sun, white sand beaches, amazing Mayan ruins (and traditions) intact. I'm sure you know what it's like—kids buried in sand, beaming smiles, you relaxing in the sun (perhaps a touch of pink on the shoulders and nose), and an umbrella drink (or two).
Paradise.
And then, with little more than 30 minutes warning, came the rain. And I mean RAIN. Tons of it. Don't believe me? See for yourself.
That is road, not a river. Those are cars, not boats.
Being in the insurance recovery business, after family concerns my mind immediately started accounting for the losses arising from the storm-related floods. Who was ready for this? Who thought they were ready for this? Who was totally unprepared? And did any of that matter?