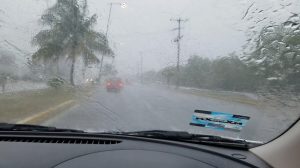 Last week, I had the great fortune of going to Cancun with my family. Sun, white sand beaches, amazing Mayan ruins (and traditions) intact. I'm sure you know what it's like—kids buried in sand, beaming smiles, you relaxing in the sun (perhaps a touch of pink on the shoulders and nose), and an umbrella drink (or two).
Paradise.
And then, with little more than 30 minutes warning, came the rain. And I mean RAIN. Tons of it. Don't believe me? See for yourself.
That is road, not a river. Those are cars, not boats.
Being in the insurance recovery business, after family concerns my mind immediately started accounting for the losses arising from the storm-related floods. Who was ready for this? Who thought they were ready for this? Who was totally unprepared? And did any of that matter?
The number of losses we saw was limited only by the reach of Mother Nature—meaning, not at all. There were cars literally underwater, those with steaming engines and those with flat tires (from driving into a curb what was hidden under three feet of water); broken trees across the road and around blind corners; building signs and bus stop advertisements torn apart and torn off and smashed into retailers; and standing water at the ground floor/entrance of shops. (This was just what we could see from the car as we drove down the "Zona Hotelera.") Our week's plan—a perfectly choreographed sequence of events for each day, from dawn to dusk—called for an afternoon excursion to Xcaret that day. But we quickly scrapped that idea as we saw the wreckage from the continuing storm. The deluge was so bad that our resort canceled that evening's "Kids' S'more Extravaganza." If I could have purchased insurance to cover the grief this caused to my 6- and 4-year-olds, I would have paid extra!
But that's not to make light of something that was actually quite scary, and made more so because I had no idea it was coming. Indeed, the Cancún weather report for that afternoon was "cloudy." You might quip that "cloudy" was technically true; it was, after all, cloudy. But that's like calling the D-Day invasion armada a "landing party." It's true, but not accurate.
The storm was a reminder of both the importance of preparing for negative outcomes and our all-too-human tendency not to. I'm rarely one to buy extra insurance for a trip or a rental car—I mean, come on, no way I'll ever need that stuff. Right? Except that I did. In this case, I was fortunate—the car did not escape the storm unscathed but the rental came with extra coverage built in thanks to a deal through the resort.
The irony is not lost on me—an insurance recovery litigator realizing how important coverage for the unexpected can be. But there you have it. So, what should you do? If nothing else, do the easy and obvious stuff:
Understand what, if any, coverage(s) you have when you are traveling (especially international travel)—you might be surprised to learn what you do and don't have.
If you don't know or don't understand, ask. There are no dumb questions, but there are dumb mistakes, and they usually happen after you don't ask a question that you think will sound dumb. Do you have personal liability coverage; car insurance; accidental death & dismemberment coverage; disability coverage; and, God forbid, life insurance?
And hey, don't forget to check the weather (a few different ways and often). It's easy enough to expect major snowstorms if you are going to Switzerland in February. But are you ready for thundershowers in Cancún during Easter?