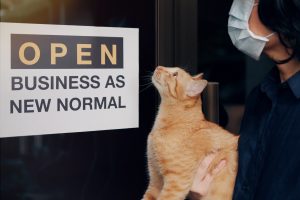 As businesses around the world continue to assess when and how to reopen their offices, the marketplace has become saturated with innovative "back to office" products and services. Whether a business chooses to invest in the latest body temperature scanner (such as Kogniz, a thermal security platform that uses AI to track fevers from a distance), room occupancy monitor (such as Density, which measures the depth and body patterns of people walking through doors to ensure social distancing is enforced), or UV light sanitizing stations and self-sanitizing keyboards (such as the Cubby and Defender), the decision may be influenced, in part, by the availability of insurance coverage for the additional investment. At a more basic level, businesses may provide workers with personal protective equipment (PPE), such as masks, gloves and hand sanitizer, or make changes to their workspaces such as social distancing signage.
If your commercial property insurance policy covers any aspect of losses related to the coronavirus or COVID-19 (currently a highly contested issue under most policies), it will also likely cover investments to prevent or minimize the spread of COVID-19 at your facilities. Potential sources of such coverage include the Protection and Preservation of Property, Mitigation, and Extra Expense provisions.
Importantly, these additional coverage provisions are often not subject to deductibles or sublimits that may apply to the general coverage for property damage and business interruption—so don't be deterred by a high deductible that may apply to those other coverages, and read on. Some policies also provide coverage for the time spent protecting and preserving covered property, which may be significant if you choose to install and operate any of the above-listed technologies requiring continuous monitoring.
In some cases, these expenses may be covered even where the business does not actually end up experiencing physical damage from COVID-19 (because its preventative effort was so successful).
Protection and Preservation of Property (PPP)
PPP coverage is designed to benefit the insurer by reducing the loss it would otherwise have to pay. This coverage frequently applies, for example, to placing sandbags around doorways ahead of an incoming storm and boarding storefront windows with plywood at times of civil unrest. In the context of COVID-19, preventing the entry of employees and visitors with high body temperatures, enforcing social distancing, and installing self-sanitizing keyboards are prophylactic measures taken to protect property and reduce loss, much like measures taken to prevent the entry of water in a flood.
In some policies, depending on the language, efforts to protect property in "imminent" danger are covered even if the property does not ultimately suffer actual damage. Nor must protection or preservation efforts always be successful in order to be insured. Webster's Third New International Dictionary defines "imminent" as "ready to take place; near at hand; impending." The point at which the threat of property damage from COVID-19 becomes imminent, such that the cost of preventive measures to protect the property is covered, is likely to be a fact-specific inquiry that will depend on your business and location.
Mitigation
In contrast to PPP, coverage for Mitigation is triggered by actual loss, damage or injury, so it likely would not apply to purely prophylactic measures taken to avoid a possible loss. However, once a loss or injury has commenced, efforts to contain it are usually covered. Keep in mind that your policy may cover your company's losses caused by loss or damage at a nearby location or upstream or downstream businesses, beyond your own property.
It is important to note that, in many policies, the Mitigation provision is often characterized as the policyholder's duty. It is typically found within a section of the policy titled "Duties in the Event of a Loss," and often does not expressly promise payment by the insurer of the costs to mitigate. However, courts have held that "the most obvious and commonsense reading of the language used in [such] clause implies a duty to pay such expenses" and ordered the reimbursement of mitigation costs. In addition, some policies do, in fact, contain express language providing that the insurer will pay reasonable costs associated with mitigation.
Extra Expense
Extra Expense is typically defined very broadly to cover all "non-ordinary" expenses of the policyholder after a disruptive incident. Like the Mitigation provision, the Extra Expense provision may also require the insured to take reasonable steps to protect its property in the event of actual or imminent covered loss.
***
Regardless of the particular provision under which coverage is sought, efforts to protect and preserve property must be reasonable and must benefit the insurer, i.e., prevent or reduce a loss the insurer would be liable to cover. Policyholders have the obligation to exercise the care of prudent insured owners to protect and preserve property, but this does not require them to use all possible care or necessarily follow the wisest course. What constitutes reasonable efforts is highly fact-specific.
If you are tasked with designing your company's office reopening strategy, review your commercial property policy carefully and consult with coverage counsel as needed to determine whether those measures, as well as the provision of PPE, may be covered. Keep a record of all your time spent investigating, installing, and operating the new equipment or system, after you reopen, as these activities may also be covered.
---
RELATED ARTICLES
Insurance Implications of Transitioning to a Remote Workforce