Say you want to make a reservation for a nice dinner. Do you call the restaurant and simply say you plan to come sometime in the next two weeks? Of course not. If you want your reservation to do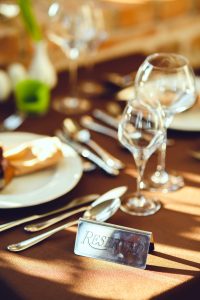 any good, you give the restaurant a date, time, and number of people. So why should insurers be able to issue reservations of rights where they quote half the policy and say they may deny coverage at some time, based on some unspecified provision? The South Carolina Supreme Court was presented with that question and decided that insurers need to provide greater specificity or risk losing their reservations completely.
Harleysville Group Insurance v. Heritage Communities, Inc. involved claims for damages stemming from defective construction and resulting water intrusion at two condominium complexes. Condo owners and the condo owners' associations sued the developer (which was also the general contractor), and the developer tendered the claims to Harleysville for defense and indemnification under multiple primary and excess liability policies. Harleysville responded by agreeing to provide a defense subject to a "full reservation of rights."
Defense counsel appointed by Harleysville conceded liability for negligent construction. After trials on the nature and extent of the damages, the juries returned multi-million dollar verdicts in favor of the condo owners and associations and against the insured developer. Harleysville then filed a declaratory judgment action against the developer, arguing that it owed no duty to indemnify the developer based on various policy limitations and exclusions identified in its reservations of rights.
As is often the case, Harleysville's reservations of rights were "generic statements of potential non-coverage" that "(through a cut-and-paste approach) incorporated a nine- or ten-page excerpt of various policy terms, including the provisions relating to the insuring agreement, [the insurer's] duty to defend, and numerous policy exclusions and definitions." With only modest exceptions, the letters "included no discussion of [the insurer's] position as to the various provisions or explanation of its reasons for relying thereon." In general, the letters didn't state the particular grounds on which Harleysville might dispute coverage; didn't advise the policyholder of the need to allocate between covered and non-covered losses; and didn't reference a possible conflict of interest or Harleysville's intent to pursue a declaratory judgment action.
The Supreme Court observed: "It is axiomatic that an insured must be provided sufficient information to understand the reasons the insurer believes the policy may not provide coverage…[and] generic denials of coverage coupled with furnishing the insured with a verbatim recitation of all or most of the policy provisions (through a cut-and-paste method) is not sufficient." Without an unambiguous warning about the insurer's positions, the policyholder has no reason or opportunity to protect its interests that are in conflict with the insurer. The Supreme Court held that Harleysville's generic reservations of rights failed to effectively reserve the right to contest coverage, preventing Harleysville from raising any policy exclusions or other potential limitations of coverage.
There's more to this case, including rulings on coverage for punitive damages (which was permitted); pro rata allocation of damages (which was allowed, but slightly modified); and whether punitive damages must be allocated (the court said no). The Supreme Court also seemed particularly troubled that Harleysville owed a duty to defend, appointed defense counsel, and controlled the defense without identifying with particularity reservations that might have allowed the policyholder to protect its interests. There was also a dissenting opinion that took issue with the reservation of rights holding.
All of these aspects of the case are important, but the ruling on reservations of rights is a clarion call. Harleysville did what many liability insurers do when faced with a claim: agree to defend (to avoid a breach of that duty) while issuing a lengthy and generic reservation of rights that says nothing of substance. While some insurers—and even some courts—may view reservations of rights as mere formalities, the Harleysville case serves as a useful reminder that insurers have a duty to specifically articulate coverage positions and to notify their policyholders of potential conflicts. The failure to make a proper reservation may leave an insurer with no reservation at all. And there's a lot more at stake than a good meal.