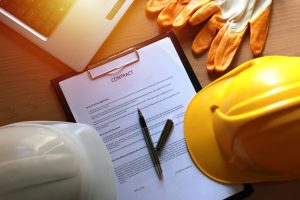 In a previous post, we addressed blanket additional insured endorsements and the role they play in passing insurance obligations downstream. In short, the purpose of a "blanket" endorsement is to grant additional insured status to any company as required in a written contract with the named insured. This obligation often begins in the prime contract where the owner requires additional insured status on the general contractor's insurance. However, the general contractor typically attempts to pass this obligation downstream to its subcontractor by including a requirement in the subcontract that both the general contractor and owner are named as additional insureds. But what happens if there is no written agreement between the named insured and the company seeking additional insured status, or if there are multiple required additional insured entities and only some have contractual privity with the subcontractor?
Nationwide, courts are split as to whether direct contractual privity is required to satisfy certain additional insured endorsements. For example, cases decided under Connecticut, Maine and Texas law have held that contractual privity is not required. Courts in New York, Illinois and Louisiana, however, have held that privity is required.
Even within jurisdictions, there is not always uniformity on this issue. In New York, for example, a trial court held in All State Interior Demolition Inc. v. Scottsdale Insurance Co. that contractual privity was not required for additional insured status. A previous post discussed that decision in detail but, in sum, the court granted additional insured status to entities that did not contract with the named insured but were referenced in the named insured's subcontract. In that case, the subcontractor was required to name the contractor, the Owner and "their respective partners, directors, offices, employees, agents and representatives." The court read that language in the subcontract broadly and required the insurer to defend the contractor, owner, ground lessor and construction manager under the terms of the additional insured endorsement.
However, the New York Court of Appeals found in Gilbane Building Co./TDX Construction Corp. v. St. Paul Fire & Marine Insurance Co. that a construction manager was not covered as an additional insured because that entity did not have a direct contractual relationship with the general contractor. In that case, the policy's "Who is an Insured" section included "any person or organization with whom you have agreed to add as an additional insured by written contract." The court held that the phrase "with whom" meant that a party qualified as an additional insured only if it had a contract directly with the named insured.
These cases, while not exhaustive, highlight the potential pitfalls of certain blanket additional insured endorsements and how courts in different jurisdictions may address the question of whether contractual privity is necessary to establish additional insured status. In addition to evaluating the language used in the subcontract, the above cases underline that additional insured status may turn on the specific language of the policy endorsement. Below are two examples of language used in common blanket additional insured endorsements that may impact additional insured status:
CG 20 33 04 13: provides additional insured coverage to "any person or organization for whom you are performing operations when you and such person or organization have agreed in writing in a contract or agreement that such person or organization be added as an additional insured on your policy."
CG 20 38 04 13: includes the same language as above, plus a provision including as an additional insured "any other person or organization you are required to add as an additional insured under the contract or agreement described … above."
Courts may interpret the language in the first provision narrowly to require contractual privity, while the language in the second provision is broader and arguably encompasses other entities named in the subcontract.
A denial of additional insured coverage based on a lack of direct contractual privity leaves all parties involved at a disadvantage. To help avoid these issues, it is critical for contracting parties to understand the contract terms, requirements and risk transfer mechanisms to ensure that an appropriate policy and endorsement is secured. Where parties added as additional insureds lack a direct contractual relationship with the policy's named insured, endorsements specifically naming them or blanket additional insured endorsements like form CG 20 38 04 13 should be used. It is then imperative that the parties carefully review the policy terms and confirm the scope of additional insured coverage prior to a project's commencement.
---
RELATED ARTICLES
New York Court Reads Additional Insured Provision Broadly in Favor of Owner and Contractor