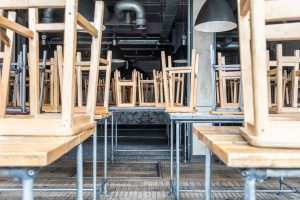 Since the beginning of the COVID-19 business interruption insurance coverage battles, insurers have labored to pour cold water on these claims—often hiring the biggest and wealthiest law firms in America to crush hair salons, motels, restaurants and bars represented by solo practitioners or lawyers with little prior insurance coverage experience. Not surprisingly, insurers have been successful in many of these early David-versus-Goliath cases (many of which involved policies with virus exclusions that the policyholders were seeking to avoid by pointing to government shutdown orders—and not the virus—as the sole cause of their loss), as we recently discussed. But the tide is turning as, increasingly, courts are applying the policies as written—rather than how insurers wished they had been written—and finding clear paths to coverage for COVID-19 claims. One such recent California federal district court case, Pez Seafood DTLA, LLC v. Travelers Indemnity Co., is a must-read for policyholders with COVID-19 losses, especially in California.
There are two key takeaways from that decision:
A complaint that alleges that the SARS-Cov-2 virus is present on a policyholder's premises will meet property policies' threshold coverage requirement that the losses must be caused by "physical loss of or damage to property," and the policyholder's case is not likely to be dismissed if coverage is not otherwise excluded.
A government order relating to the coronavirus that merely restricts the type of services the policyholder's business can offer but does not require its complete closure still likely triggers the civil authority coverage in property policies, which typically covers business interruption losses the policyholder suffers when the government prohibits access to its premises due to physical loss or damage to nearby property.
The specifics of the Pez case are now all too familiar. A California restaurant was forced by COVID-19-related government orders to shutter its indoor dining operations, but was allowed to continue takeout and delivery services. The restaurant sued its property insurer, Travelers, for business interruption and civil authority coverage. The restaurant did not claim coronavirus was present on its premises; the restaurant claimed instead that it had suffered physical loss or damage to its property solely from the government shutdown orders.
The court dismissed the action with prejudice, holding that the government orders did not cause "physical loss of or damage to property" because they did not involve an external force coming onto and affecting the premises.
However, the court, following a mushrooming trend of similar decisions around the country (see here, here and here), held that if the policyholder had alleged the presence of the virus on its premises, that would have constituted the "direct physical loss of or damage to property" required to trigger the policy's coverage. Significantly, the court pointed to a series of cases from around the country that found "direct physical loss without physical damage" so long as there was "some physical intrusion that compromises the physical integrity of property, such as toxic gasses released by drywall, gasoline accumulation in a building, ammonia discharge, or a computer virus attack—all situations highly equivalent to the presence of coronavirus.
The Pez holding kicks the foundation out from under the insurers' argument that a policyholder cannot sustain physical loss or damage to property unless it has been structurally or physically altered. This argument is not supported by common policy language, which merely requires physical loss or damage to property to trigger coverage. Insurers typically gloss over the fact that the coverage trigger uses the disjunctive "or," signaling that "loss" and "damage" are alternative triggers; leapfrog over the physical "loss" trigger entirely; and focus myopically on structural "damage" to property. They also ignore that "loss" means "the act of losing possession" or "deprivation," which many courts have interpreted to include mean to include temporary loss of use or loss of functional use.
This ruling is immensely helpful to policyholders because, given the pervasive and ubiquitous nature of coronavirus, it is statistically certain that any restaurant, gym, retail store, hotel, casino, or any other business open to the public has the coronavirus on premises. Indeed, such businesses nearly invariably have cases of COVID-19 among their employees and customers.
Finally, the court held that, but for the virus exclusion, the policy's civil authority coverage would have covered the government shutdown orders even though they did not preclude takeout and delivery service. The court rejected Travelers' argument that, because the policyholder could physically enter the restaurant notwithstanding the shutdown orders, he was not "prohibited" from access as required by the civil authority clause of the policy. The court found the Travelers policy ambiguous because it "does not specify whether 'prohibits access' means the entire property must be closed off to all persons, or whether denying access to some of the premises to some people would be enough."
The holdings in Pez are crushing blows to insurers' attempts to limit coverage for COVID-19 claims. And they provide a clear roadmap for policyholders to obtain this coverage and stay in business—especially policyholders in California. Policyholders with disruptions from COVID-19 should consult experienced insurance coverage counsel to make sure they recover all the insurance benefits they are entitled to receive.
---
RELATED ARTICLES
Don't Be Fooled by the Numbers: How Insurance Companies Are Attempting to Create a False Narrative on COVID-19 Insurance Claims
Reminder: If You Have a COVID-19 Insurance Claim, Be Aware of Impending Policy Deadlines
Correcting the Record on Insurance Industry Hucksters and Novel Coronavirus/COVID-19 Coverage