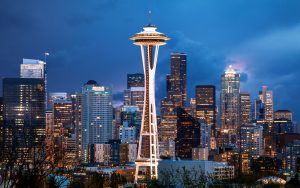 Location matters. Some states are more protective of policyholder or consumer interests than others. And so, where the case is ultimately litigated, and what law applies, can have profound implications for a policyholder's recovery.
In an effort to secure the application of a body of jurisprudence they perceive to be more favorable to them, insurance companies will sometimes include provisions in policies mandating either that cases arising under the policy be filed in a certain court or conducted under a specified state's laws. We have previously noted the limits of such choice-of-law provisions, especially when the selected state's laws conflict with the fundamental public policy of the state in which a coverage suit is filed. Now, a recent decision from a New York State court illuminates the limits of forum-selection clauses in an insurance policy.
The case is North American Elite Insurance Company v. Space Needle, LLC, currently playing out before both a state court in New York and a federal court in Washington State. At issue is a $160 million insurance policy that the company that owns the Space Needle, Seattle's notable landmark, purchased from North American Elite Insurance Company. Even though the Space Needle policy was issued in Washington to a Washington company to insure property in Washington—the Space Needle itself—North American Elite included a Governing Law and Jurisdiction provision that purported to submit the parties "to the exclusive jurisdiction of the Courts of the State of New York," while waiving "all right to challenge or otherwise limit such jurisdiction." It also provided that the laws of the State of New York would "govern the construction and interpretation" of the policy. North American Elite did this despite a Washington statute that prohibits the insertion of forum-selection and choice-of-law provisions into policies issued in Washington.
Like so many other businesses in the past year, Space Needle sustained losses related to the pandemic, leading it to submit to North American Elite a business interruption claim for the "millions of dollars in lost revenues [it sustained] in connection with the Covid-19 pandemic and government orders issued after its outbreak."
North American Elite reserved its rights under the policy and brought a declaratory judgment action in New York state court, asking the court to declare that the policy did not provide coverage. A week later, Space Needle sued North American Elite in the United States District Court for the Western District of Washington and argued that Washington law applied to the dispute and that it could litigate in Washington, notwithstanding the Governing Law and Jurisdiction provision.
North American Elite then filed a motion for preliminary injunction in the New York case, seeking to enjoin Space Needle from continuing its lawsuit in Washington. A New York judge denied that motion and ruled in favor of Space Needle, refusing to block the federal suit in Washington.
Recognizing that insurance is an industry regulated by the states, the New York court took note of a Washington statute, dating back to 1947, that prohibits any insurance policy issued in the state from "requiring it be construed according to the laws of any other state" or "depriving the courts of [Washington] of the jurisdiction of action against the insurer." By seeking permission to sell insurance in Washington, North American Elite agreed to abide by Washington law, including this statute prohibiting forum-selection clauses in policies and depriving Washington courts of jurisdiction. The forum-selection clause in the Space Needle policy, therefore, violated Washington law, and the New York court declined to enjoin Space Needle from continuing its Washington lawsuit.
The court reached this conclusion even though it found that New York is a freedom-of-contract state, forum-selection clauses are prima facie valid, the parties are "sophisticated," and the policy language is unambiguous. But none of these considerations permitted North American Elite to sidestep the requirements of Washington state law, applicable to the policy at the time it was issued in Washington.
This decision may have major implications for Space Needle. As North American Elite argued in the New York action, if the case proceeds in Washington, Space Needle can claim that it is entitled to punitive and bad faith damages—damages that might be more difficult to obtain in New York. But the decision also has important lessons for policyholders everywhere:
First, it is important to understand the restrictions and modifications state law may impose upon the terms of an insurance policy.
Second, forum-selection clauses might not be valid, and filing first in the preferred forum (so long as there is a reasonable basis to do so) may offer substantive and procedural benefits.
Finally, location matters—both in real estate and in insurance litigation.
Knowledgeable policyholder counsel can offer guidance in each of these areas and can help evaluate current policies and determine how to best protect future interests, including how to best leverage the critical factor of location, location, location.
---
RELATED ARTICLES
California Supreme Court Sides with Policyholder in Critical Notice-Prejudice Case